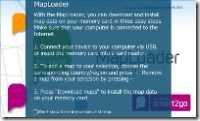 Smart2go is the map and navigation application that comes pre-installed in Nokia N95 (»Maps« in the main menu). Smart2go is able to download map data from the net as needed, but since it is both expensive and time consuming, Nokia offers manual download of map data, using "MapLoader" - a PC utility program that can be found on the Smart2go web site.
This post demonstrates how map data for Denmark can be downloaded using "MapLoader" and transferred to the N95 memory card.
Please note that before any data is downloaded using Maploader, the smart2go (»Maps«) application should be used at least once on the phone. By doing so, a vital folder is created on the phone memory card. This folder is used by MapLoader to detect the phone and to store map data. The GPS map data folder is named '\Private\20001f63′.
These are the steps necessary to download map data for Denmark:
Download, install and start MapLoader.
Connect your phone to your PC, using the USB data cable that came with the phone. Choose "Data transfer" in the menu that pops up on the phone as the cable is plugged in. Close all programs - or restart the phone - if there is an error message, telling you the phone cannot be connected because another program uses the memory card.
Choose the "Europe" tab in MapLoader.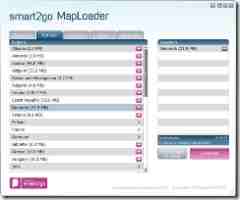 Locate Denmark on the list and click the '+'-sign to the right.
This adds »Denmark« to the right side of the window.
Click the »Download« button in the lower right corner of the window.
Map data for Denmark is then downloaded and put into the subfolders of '\Private\20001f63′ on the memorycard.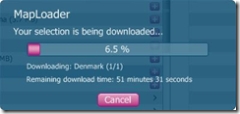 It may take some time to download map data, depending on the load on the map server(s). It took me approx. 45 minutes to download the 21.9 MB data for the Denmark map.
The same procedure can be used for travels abroad. Before leaving home, download map data for the county(-ies) you are about to visit and you are all set!
If you enjoyed this post, make sure you subscribe to my RSS feed!
Related Posts: