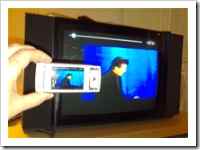 Since getting a Nokia N95 I have been wanting to blog about its TV out function. To me, this feature is simply freaking awesome and very useful.
I had some initial problems plugging my N95 into my old B&O TV set. This TV does not have a phono input (RCA) that fits the N95 cable's jack plug.
Read on and see, how I solved that problem…
If you know a little about the N95 - or have one yourself - you are probably aware how the 3.5″ headphone input doubles as a TV out. Using the included cable (CA-75U), the N95 can be plugged into a regular TV set and use the TV as an external monitor.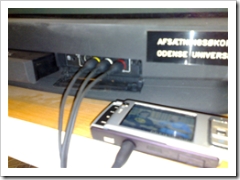 TV-out on the N95 is a really cool feature - it can be used to show friends and family images and video recorded by the device. Instead of having to huddle around the small screen of the phone, TV out enables you to enlarge the screen so everybody can see.
As shown in the image to the left, the easiest way to connect the phone to a TV is to simply plug in the CA-75U cable's three plugs (yellow: composite video;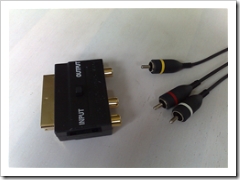 red: stereo right; white: stereo left).
But what if the TV does not have the appropriate inputs? The ones that fit the RCA phono jack plugs of the N95 cable?
Well, our vintage Bang & Olufsen Beovision LS 5500 sure did not have them (but do provide us with killer sound and image!). The solution turned out to be a piece of gear that is originally part of an ALDI cable set for hooking up a computer with a TV.
The phono-to-SCART connector piece, shown in image above, came as part of this cable set and using that as a go-between everything is hunky-dory! The connector piece is also equipped with a S-VHS input in case anyone is interested…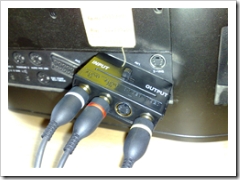 The S-VHS input can be seen in the image to the right, which also illustrates how the CA-75U cable is plugged into the connector pieced. The connector piece in turn is plugged into a SCART socket.
Be aware that you are not restricted to using TV out for just playing back media you have recorded yourself.
Why not throw a few DivX movies onto the memory card and play them on a TV set using TV out and the free DivXPlayer?
Way to go! Try this with an iPhone!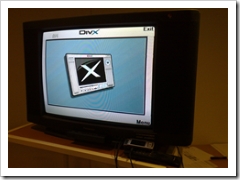 If you enjoyed this post, make sure you subscribe to my RSS feed!
Related Posts: