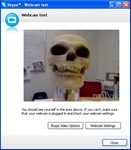 For some time I have been using a free program that enables me to use my mobile phone as a wireless webcam. The program is called WWIGO - Webcam Wherever I GO - and all you need to use it is a compatible handset; a Windows computer; and a very basic knowledge of using bluetooth.
Did I mention it is completely free?
I am pretty psyched about this - it is such a clever application and it is really only the imagination that limits the potential ways in which it can be used. WWIGO can of course be used for video conferencing - e.g. with Skype, MSN Windows Live Messenger and such. But what is keeping you from using the phone as a wireless surveillance camera? Maybe with some additional webcam software? WWIGO works with several older phone models so it is not like you need to have the latest gear to use it. Besides these applications, WWIGO can also be used to record video directly on the computer, using the phone's camera.
Regardless of application, using the mobile instead of a "regular" webcam has several benefits. First, there is no longer any reason to keep a webcam in your bag because you always bring your mobile, right? This may seem a bit exaggerated, but if you are both a road warrior and a gadget man even a minor reduction of the amount of gadgets carried is worth considering. Second, no more annoying cables - you do not have to carry them or be restricted by them.
Here is a short walk-through of how to install and use WWIGO:
Install WWIGO
WWIGO has two parts: one part that installs on the mobile and another part that installs on the computer. The computer part only works with Windows and is actually rumoured not to work with Vista. The computer and the mobile part connect wirelessly via bluetooth and WWIGO supports bluetooth stacks from Widcomm, Microsoft and Toshiba.
During installation, tick off "Transfer Mobile Application to phone".

Pick your phone in the list of nearby bluetooth units.

The phone part of WWIGO is then transferred to the mobile where it pops up in the inbox.

FInally, install WWIGO on the mobile from the inbox.
To test the WWIGO installation, try using WWIGO's stand-alone program on the computer. Also use this program to record video directly on the computer.
Locate the 'WWIGO' shortcut in your "Start"-menu and launch the application on the computer.
WWIGO will display a black screen with the text 'Not Connected'.

Start WWIGO on the mobile.

When WWIGO is up and running on the mobile, the camera image is displayed.

Choose "Options" | "Connect" on the mobile and then select your computer in the list of bluetooth units:

Once the bluetooth connection has been established the mobile camera image is displayed on the computer.

Adjust WWIGO
Select "Options" | "Settings" on the mobile.

WWIGO can use both cameras on my N95 (VGA cam on front and main 5mp cam), but unfortunately it restricts the picture size to 176×144 pixels, regardless of which camera is used.
Use WWIGO with Skype
WWIGO can be used with most IM clients and it can also record video directly on a web site like YouTube, Facebook or twango.
Start Skype og select "Tools" | "Options".
Start WWIGO on the mobile and choose "connect".
Select 'wwigo' as webcam in Skype and click the "Test Webcam" button.

WWIGO offers for free the same functionality as several commercial products, e.g. Mobiola Web Camera. WWIGO can be used with a lot of Symbian S60 3rd edition handsets - go to motvik.com to see the full list. This is WWIGO's own list of compatible handsets, but I get the feeling that this list is not exhaustive. In the WWIGO forum there are several reports from users that run WWIGO on handsets not listed, for instance the Nokia E50 or E65 - the list has been updated since I started writing this post.
Link: Download WWIGO fra motvik.com
If you enjoyed this post, make sure you subscribe to my RSS feed!
Related Posts: