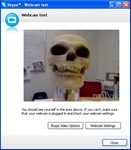 For some time I have been using a free program that enables me to use my mobile phone as a wireless webcam. The program is called WWIGO - Webcam Wherever I GO - and all you need to use it is a compatible handset; a Windows computer; and a very basic knowledge of using bluetooth.
Did I mention it is completely free?
I am pretty psyched about this - it is such a clever application and it is really only the imagination that limits the potential ways in which it can be used. WWIGO can of course be used for video conferencing - e.g. with Skype, MSN Windows Live Messenger and such. But what is keeping you from using the phone as a wireless surveillance camera? Maybe with some additional webcam software? WWIGO works with several older phone models so it is not like you need to have the latest gear to use it. Besides these applications, WWIGO can also be used to record video directly on the computer, using the phone's camera.
If you enjoyed this post, make sure you subscribe to my RSS feed!