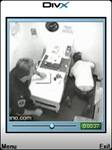 Suppose someone sent you one of those "funny" video clips that circulate on the Internet - for instance the one with the DUI guy who is being finger printed at the police station. Let us further assume you would like to have this video on to your mobile phone so you can show it off to your friends…or something.
How will you do that?
If you enjoyed this post, make sure you subscribe to my RSS feed!